Highlights:
Moroccan Rhassoul clay soap bar. Deep pore cleansing, and deeply detoxifying, with a rich lather; ideal for all skin care; face, body and even hair! The slippery smooth feel of this lather also makes it great for shaving.
Rhassoul clay from Morocco deep cleans, gently exfoliates and removes impurities leaving skin soft and silky. Its toning action revitalizes the complexion and tightens pores.
The natural benefits of rhassoul clay are suitable for all skin types, including: eczema, psoriasis, acne, dry or oily patches, as well as dandruff, thinning and fine hair.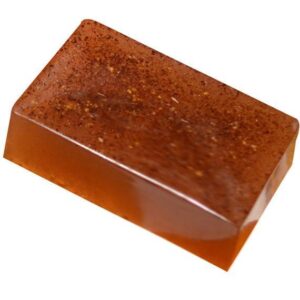 Highlights:
SWEET ORANGE-CINNAMON ORGANIC SOAP. NATURAL. SLS FREE.  Warming Sweet Orange oil helps boost circulation, and spicy Cinnamon to condition and cleanse skin. This invigorating soap will leave you feeling refreshed and revitalised. It can be used for bathing, also perferct for shaving. The cinnamon oil stimulates and lifts the hairs for a closer shave. Thanks to its nutritive elements, it restores the skin, making it silky soft. This brown powder stops the growth of various micro organisms, therefore it is also known as an antimicrobial agent. Cinnamon soap is suitable for all skin types.