We, The World is unusual in that we actually promote other organizations and causes that are working for peace, sustainability and transformation. Cooperation and partnership are key aspects of our strategy and mission. In fact we are building international networks of collaboration and action with platforms like 11 Days of Global Unity that amplify the efforts of all our Partners.
We would like to offer your group primetime exposure as a Featured Partner to our ever-expanding global network. We are reaching more than 850,000 people a year.
Benefits:
Monthly Campaign Conversations: Join us as we discuss and learn ways to embody the 11 Campaigns for Change.
Monthly Strategic Partnership Meetings: Join us live to collaborate with partners and expand with cross-promotion. Amplify the work you are doing. Let's Answer the question, "What can WE do together that we can't do on our own?". We are inviting partners and allies to share in many wonderful collaboration projects coming up and we would love you to share for 5 minutes about what you have going on and hear from other partners how we can work together and accomplish twice as much.
Ad space in Trends in Global Grassroots Organizing
Free product and service listings, sitewide discounts, and commission increase in the WE Store
Your logo and description included on WE.net
Email promotion

In collaboration with We the World's Women's Campaign, Aurora Pagonis of She Speaks and Janet Grace Nelson would like to warmly invite you to join us and an incredible tribe of women for a Sacred Conversations Gathering. Aurora & Janet Grace both global leadership and empowerment coaches have come together to combine genius and to serve the rising of feminine intelligence.
This monthly event will invite you on a journey of discovery across various themes that inspire the feminine heart.
The June 1 event will be focused on UNITY, allowing ourselves to see where we still may be creating separation and then to explore the gifts of consciously stepping into a deeper awareness of wholeness.
You will be hosted by Aurora & Grace who will encourage the cultivation of insights and transformation through conversation in good company. Creating the space that acts as a container to capture the higher Intelligence that is required of us as women to support our next evolution together.
Sacred Conversations is held in a 90-minute circle of mindfulness, authentic dialogue, deep contemplation, sharing in dyads and as a group, as well as an opportunity for some "HeartSeat" coaching reflections.
In the willingness for each of us to step into sacred space, we will drop into presence and activate our deep listening. As we open to the wisdom of our Hearts, our inner impulse to share through our voice, allows for our direct knowing to become available. In the spoken word, it becomes present as an in-sight for ourselves and for one another.
Sacred Conversations will support you to:
Activate your voice
Claim your personal genius and unique gifts
Witness one another in deep listening
Learn from the collective voice
Breakthrough and let go of anything that doesn't serve
Experience a deeper connection to self, others and the divine
Discover and clarify what is emerging for you
Rise in your feminine leadership
Vision into a new way of living, loving and leading
We welcome you to say YES to a nourishing, uplifting and evolutionary gathering In Good Company.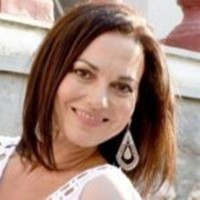 AURORA PAGONIS 
As an Evolutionary Leader, Visionary and leadership coach, Aurora is dedicated to creating the containers of safety and evolution to enable women, changemakers and emerging conscious leaders to deliver to their calling. Her vision is to co-create a world that works for all.
For over twenty years Aurora has traversed the path of business in senior roles in the Telco, IT and Wellness sectors and also equally the path of consciousness as a seeker of truth, coach, inspirational speaker and facilitator.
Aurora is the founder She Speaks, an empowerment & leadership organisation. She has inspired hundreds of women and conscious emerging leaders across the globe to fully express their voices, claim their gifts and rise into a new form of leadership.
Aurora's ability to walk both the paths of business and consciousness, feminine and masculine, enables her to be a bridge to the new. It is her belief that in the wholeness of these assumed opposing forces a new intelligence becomes available. A wholeness that will enable humanity to provide new solutions to respond to these uncertain times.
Aurora's ability to see the unseen, dedication to creating sacred containers and the ability to invoke deep conversations of the heart add to her vast experience of business and in being in the world.
Aurora's projects include:
Sacred Conversations for the feminine heart
The Feminine Intelligent Leadership Program  
Born to Lead an annual monthly program uniting emerging conscious leaders
The New Genius a 12-week incubator and conscious leadership as part of The Evolutionistas
Empower circles for women in business
To find out more Aurora can be reached at https://shespeaks.live
JANET GRACE NELSON
Janet Grace is deeply passionate & committed to empowering women to connect with their innate genius, step into their full power and to live from Love. She believes that as we are all lead by our hearts, we can make higher choices for good and recognize our hearts intelligence that is needed to guide us forward so we can co-create a world that works for everyone.
We are all living in extraordinary times that require new ways of exploring solutions for every sector of society. We must re-awaken our feminine inspiration, intelligence and intuition to co-create those solutions and come together in a beautiful, united way to do so.
Janet Grace has traveled the world facilitating Sacred Women's circles in Africa, Nepal, Israel, Costa Rica and all over Europe to enliven women's power in communities and bring a deeper sense of Oneness & connectivity. As an Agape trained Spiritual Practitioner & an award winning speaker, author, teacher & Coach, her programs & keynotes have been inspiring conscious people worldwide to push past their fears to know a deeper Truth to honor their Soul's calling and to serve where they are called.
Janet Grace has shared the stage with many experts in the Personal Growth Industry including Mary Morrissey, Bob Proctor, Reverend Michael Bernard Beckwith & Les Brown to name a few. Her passion to help others expanded to her newest book, "Putting the Broken Pieces Back Together" 7 Steps to Living a Courageous Life…NOW!!! This book & workbook assists people to navigate through challenging times to live with greater Courage and is filled with Inspiring & Empowering stories of strength & Vision
Janet's motto is " Love your Life NOW, this is Not a dress rehearsal."